Courses in Religious Education in Halle
The following chart offers a concise overview of the core courses offered at our department.
Detailed information on the course offerings for the current semester is available here at Stud.IP ["Search the course catalogue" → "Faculty of Theology" → "Practical Theology and Religious Education"].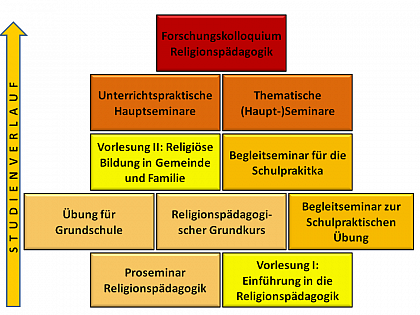 Overview of courses in Religious Education in Halle
Course descriptions:
Core courses offered every semester:
Introductory Seminar on Religious Education: This seminar introduces students of religious education and ministry to methods and issues pertinent to the discipline. Students have the opportunity to design a "short syllabus" (following the examination regulations of the member churches of EKD, the Evangelical Church in Germany).
Parallel Seminar on Practical Teacher Training: In the practical training segments, student teachers sit in on religion classes and observe with the goal of independently conceiving, implementing, and assessing their own lesson plans. The main focus in this seminar is on discussing and testing the core methods and media appropriate for the teaching of religion in schools.
Parallel Seminar on Practical Teaching Experience (PTE): Student teachers who are currently in, or have already concluded, the process of designing and implementing their PTE at a school will be introduced to the guiding principles of class observation and for conceptualizing and critiquing their own lesson plans. Discussions also address the typical challenges they face during the course of their practical training.
Advanced Seminars on Teaching Methods: The main focus at this level is on designing and implementing the lesson plans, aided by video recordings and assessments of student performance in the trial classes. The courses are tailored to meet the specific needs of each school type in Germany. Students can choose to take this class for a grade (for students pursuing a degree in ministry).
Advanced Special Topics Seminars: The special topics (advanced) seminars address the classical topics and themes taught in a religion class (e.g. "wonder", "parables", Jesus Christ", "ethics") and beyond that also discuss some fundamental research questions underlying religious education in general (e.g. "Do boys pose a challenge in the teaching of religion; "Context: Non-denominationality"; "Tolerance as a goal in interreligious learning?").
Research Colloquium on Religious Communication and Learning Processes: This research colloquium introduces and examines research projects on current topics in religious education (including those carried out at the Institute's Research Center for Religious Communication and Learning Processes [Forschungsstelle für Religiöse Kommunikations- und Lernprozesse]). Student participation in this colloquium is optional and requires in-person registration.
Additional course offerings during winter semester
Practical Teacher Training for Elementary Schools: This practical training course thematizes the specific challenges of teaching religion in elementary schools.
Lecture Class I: Introduction to Religious Education: This lecture series offers a survey of the most important methods of instruction for teaching Protestantism in schools.
Additional course offerings during summer semester
Basic Course in Religious Education: The basic course introduces traditional and new theoretical concepts in the pedagogy and didactics of religious education and discusses the relative pros and cons. The main goal is to explore the possibility of their applicability to designing religion classes.
Lecture series II: Religious Education in the Parish and within the Family: Following Lecture Series I, which deals with religious education in schools, this lecture series thematizes religious learning outside the classroom. Family and parishes are the center of focus.
---
---