Neues Testament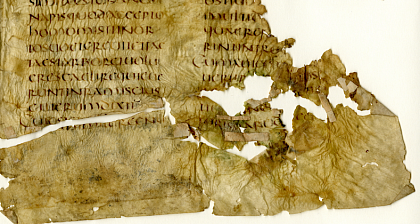 Fragmenta Curensia Ms 041.0.1; Neuedition: A. Weissenrieder und A.L. Visinoni
New Testament - Overview
Video
General description
The study of the New Testament is focused on the philological, literary and theological dimensions of the writings of the New Testament. Typically, knowledge of the original New Testament Greek is a prerequisite. Notwithstanding that, course offerings also include general topics courses for students of all disciplines as well as introductory courses specially designed to prepare student teachers in Religious Education.
The focus is primarily on the exegesis of the New Testament, in other words, on a closer examination and proper understanding of the individual texts of the New Testament scriptures. The exegetical methods will be introduced in the proseminar. Topics of further interest to this discipline include the genesis of the New Testament writings and their theological intentions, their intellectual, religious and historical contexts, and the history of Early Christianity in general.
Core course offerings
Synoptic gospels, especially the Gospel of Luke
Johannine Literature
Pauline epistles
The Letter to the Ephesians
Introduction to the New Testament
Theology of the New Testament
Israel in the New Testament
History of Early Christianity
Special emphasis
New Testament anthropology in light of ancient medicine and philosophy
Religion(s) and medicine
New. Testament and material culture: building inscriptions, numismatics and archeology (in cooperation with the Archeological Institute)
New Testament and visual culture
Wisdom literature (Old Testament, Early Judaism, New Testament) and on the Problems of the Canon
Courses on the New Testament and Hellenistic times are be offered within the framework of the »Corpus Hellenisticum« and »Neuer Wettstein« projects.
Projects
Vetus Latina Luke in cooperation with Prof. Dr.phil. Dr.theol. Thomas J. Bauer from the University of Erfurt
Ancient Architexture in cooperation with Jan Stenger and Martina Kepper
Visual Culture and the New Testament: A Handbook
Professors
Research interests: The Gospel of Luke (see also Vetus Latina); the letter to the Ephesians; ancient medicine and philosophy and Paul; material art
Prof. Dr. Stefan Schorch
Research interests: Literature of the intertestamental period; reception of Old Testament in the New Testament
Prof. Dr. Udo Schnelle, Emeritus
Research interests: The Apostles Paul and John; introduction to Biblical exegesis; theology of the New Testament; history of Early Christianity
Prof. Dr. Hermann von Lips, Emeritus
Research interests: Pastoral Letters; tradition of Biblical wisdom; canonical history of the New Testament; "Official Duties and the Parish" in the New Testament; feminist theology
Guestprofessors
Elna Mouton
Harry O. Maier
Staff/Research Associates
Teaching Assistants
Administrative Assistant
Kathrin Engelmann
Email: kathrin.engelmann@theologie.uni-halle.de
Tel: +49 (0) 345 / 55 230 13
Fax: +49 (0) 345 / 55 272 14
office hours: Mon, Tue, Thu 9:00 a.m.–12:00 p.m, Wed 9.00 a. m. - 11:30 a.m.
Further information on the office hours, telephone numbers and email addresses of the professors and staff can be obtained from the Faculty Directory of the Faculty of Theology.
Address and Location
Martin-Luther-University Halle-Wittenberg
Faculty of Theology
Institute of Biblical Studies
Seminar for New Testament
Franckeplatz 1, Haus 25
06099 Halle/Saale
---
---