---
---
---
---
Contact
Friedemann Stengel
phone: +49 (0)345-5523020

Institut für Historische Theologie Seminar für Kirchengeschichte,
Franckeplatz 1, Haus 30
06110 Halle/ Saale
---
---
Login for editors
---
Prof. Dr. Friedemann Stengel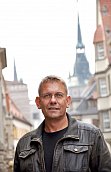 Contact
Prof. Dr. Friedemann Stengel
Franckeplatz 1, Haus 30
06110 Halle
phone: 0345/55 230 20
phone: 0345/5523071 (Annegret Jummrich, Sekretärin, IZP)
phone: 0345/55 230 02 (Silvia Markus, Sekretärin)
friedemann.stengel@
theologie.uni-halle.de
Sprechzeiten:
nach Vereinbarung
postal address:
Theologische Fakultät
Institut für Bibelwissenschaften und Kirchengeschichte
Kirchen- und Dogmengeschichte
Prof. Dr. Friedemann Stengel
06099 Halle
Short Vita
*1966
1986-1992: Study of Protestant theology in Halle, Neuendettelsau and Bonn
1997: Doctorate in theology in Halle
1998-2003: Research Associate at the Historical Institute, Chair for Church History at the Faculty of Theology in Halle and in Jena
2002-2004 Vicar (Pastor-in-training) in Halle-Neustadt, Second Theology Examination, ordination
2004-2010 Research Associate in the DFG-funded Research Group 529 "Die Aufklärung im Bezugsfeld neuzeitlicher Esoterik" (Enlightenment in the Context of Modern Esotericism), Interdisciplinary Center for European Enlightenment Studies (IZEA, Interdisziplinären Zentrum für die Erforschung der Europäischen Aufklärung) in Halle.
2009 Habilitation at the Faculty of Theology, Heidelberg. Venia legendi: Church History
Habilitation thesis: 'Aufklärung bis zum Himmel. Emanuel Swedenborg im Kontext der Theologie und Philosophie des 18. Jahrhunderts' (598 pages).
2010-2018 Interim Professor of Modern Church History in Halle, substituting for Prof. Dr. Udo Sträter, Vice-Chancellor, Martin-Luther-University Halle-Wittenberg
Since 9/1/2018 Professor of Modern Church History in Halle
From 10/1/18 Executive Director of the Interdisziplinäres Zentrum für Pietismusforschung (IZP) Halle (Saale)
2020-2022 Dean of the Faculty of Theology
---
---