Dr. Anna Briskina-Müller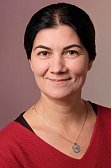 Contact information
Telephone:
+49 (0) 345 / 55 230 75
Email:
briskina@theologie.uni-halle.de
Office:
Faculty of Theology
Franckeplatz 1, House 24, 1st floor
Mailing address:
Dr. Anna Briskina-Müller
Martin-Luther-University Halle-Wittenberg
Faculty of Theology
06099 Halle/Saale
Office Hours:
By appointment
Biography
Born in 1973 in St. Petersburg.
1990-1996: Study of Orthodox theology at the Russian-Christian Humanities Institute (Russisch-Christliches Geisteswissenschaftliches Institut - RChGI), St. Petersburg. 1995-1996: Worked at the Christian Radio Channel for Religious Information 'Blagovest-Info', Moscow
1995-1996: Freelance Associate at the Orthodox Institute of Missiology, Ecumenical and New Religious Movements, St. Petersburg.
1996-2000: Postgraduate studies in Protestant theology in Heidelberg (Church History). 1998-2003: Assistant at the Heidelberg Academy of the Sciences to aid in the preparation of the critical edition of "Melanchthon's Correspondence"
2003-2004: Assisted with the critical edition project "Martin Bucer's German Writings" at the Heidelberg Academy of the Sciences
2005: Doctorate in church history (with Prof. Dr. Gottfried Seebaß), Heidelberg.
July 2004-March 2014: Research Associate at the Seminar for Orthodox Churches, Faculty of Theology, University of Halle (until 2010 with Prof. Dr. Dr. h.c. Hermann Goltz, Chair for Confessional Studies of the Orthodox Churches)
October 2010-July 2014: Research Associate in a project funded by the German Research Foundation (DFG, Deutsche Forschungsgemeinschaft) titled "Russisch-Deutsches/Deutsch-Russisches Theologisches Wörterbuch" (Russian/German Dictionary) at the Theological Faculty of Humboldt-University of Berlin (headed by Prof. Dr. Heinz Ohme, Chair for Church and Confessional Studies / Eastern Church Studies).
Since August 2014: Research Associate in a project funded by the German Research Foundation in the "Eigene Stelle" module on "Paisij Welitschkowskij (1722-1794) und sein Werk. Die Rückkehr des Hesychasmus und das Schicksal des altkirchlichen Bildes vom geistlichen Vater in der russischen Orthodoxie".
Course Offerings
SoSe 2005:
S: Orthodoxes Kirchenjahr
WiSe 2005/06
S: Ikonenverehrung in der Orthodoxen Kirche
SoSe 2006:
S: Die `Sonderlehren` der Orthodoxie
WiSe 2006/07:
S: Russische Religionsphilosophie: Chomjakov, Solov'ev, Bulgakov, Berdjaev
Ü: Russisch für Theologen
SoSe 2007:
S: Die sieben Ökumenischen Konzilien
Ü: Russisch für Theologen
WiSe 2007/08:
S: Östliches Mönchtum
Exkursion: 5 Tage im Hl. Spiridon Kloster, Gailnau/Lahn
SoSe 2008:
S: Philokalie, oder orthodoxe Psychotherapie
WiSe 2008/09:
S: Der orthodoxe Gottesdienst (die Tagzeitgottesdienste)
Ü: Einführung in die wissenschaftliche Arbeit an Texten
SoSe 2009:
S: Das Große Schisma von 1054
WiSe 2009/2010:
S: Basilius der Große
Ü: Einführung in die wissenschaftliche Arbeit an Texten
SoSe 2010:
V: Das orthodoxe Kirchenjahr
S: Maria
Exkursion: 3 Tage im griech.-kath. Priesterseminar "Collegium Orientale", Eichstätt
WiSe 2010/2011
S: Die Göttliche Liturgie - Gestaltung und Theologie des orthodoxen eucharistischen Gottesdienstes
SoSe 2011
S: Von den ikonoklastischen Streitigkeiten zu der Ikonenverehrung
WiSe 2011/2012
S: Die "Himmelsleiter" des Johannes Klimakos. Quellen orthodoxer Asketik.
SoSe 2012:
S: Ps.Dionysios Areopagita
Ü: Taufe – Lektüre der altkirchlichen Tauftexte (Griechisch) / gemeinsam mit Thomas Hübner
WiSe 2012/2013:
S: Wittenberg und Byzanz: Confessio Augustana Graeca
SoSe 2013: S: Gregorios Sinaites
WiSe 2013/14: S: Das ostkirchliche Starzentum: von 'Apophthegmata patrum' bis Fedor Dostojewskij
SoSe 2015: Ü: Das frühe Mönchtum anhand der "Apophthegmata patrum"
WiSe 2015/16: Ü: Das frühe koinobitische Mönchtum: Pachomios der Große
WiSe 2018/19: Ü: Geschichte und Theologie des Mönchtums: Isaak von Ninive
WiSe 2019/20: Ü: Makarios der Große und der Protestantismus des 17./18. Jh.
WiSe 2020/21:
Ü: Evagrios Pontikos (Halle);
S: Einführung in die Orthodoxie (Leipzig)
WiSe 2021/2022: Ü/Lektüre (Griechisch): Markos der Asket, Über jene, die meinen, aus Werken gerechtfertigt zu werden (zusammen mit Thomas Hübner)
WiSe 2022/2023: Ü Gehorsam im ostkirchlichen Mönchtum
Publications
Memberships
Since August 2002: European Society for Ecumenical Research "Societas oecumenica"
Since May 2006 – Society for the Study of the Christian East (Gesellschaft zum Studium des Christlichen Ostens - http://www.gsco.info ), board member from 2010 to 2014.
Since March 2018 - German Historians Society
Committee work
---
---