Blossom Stefaniw
Heisenberg Fellow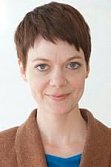 Contact
Dr. Blossom Stefaniw
Franckeplatz 1, Haus 25
06110 Halle (Saale)
phone: 0345 / 55 2 30 82
blossom.stefaniw@theologie.uni-halle.de
postal address:
Theologische Fakultät
Institut für Historische Theologie
Dr. Blossom Stefaniw
06099 Halle (Saale)
Profile
2018 Visiting Professor for Church History, MLU Halle-Wittenberg
2011-2017 Junior Professor for Ethics in Antiquity and Christianity, JGU Mainz
2010-2011 Post-doctoral research fellow, German Academic Exchange Service, Aarhus University
2009-2010 Post-doctoral teaching fellow in Religious Studies, University of Erfurt
2005-2008 PhD in Historical Religious Studies, University of Erfurt
2002-2004 MTh in Church History, University of Wales, UK
2000-2001 Diploma in Classical Studies, Open University, UK
1994-1999 BA in Interdisciplinary Studies (Linguistics, Literature and Theology), USA
Research Interests
ascetic and monastic culture in late Roman Egypt and Palestine

ascetic textualities, exegesis, early Christian reading practices

masculinity, history of sexuality, gender, history of the body

ancient pedagogy, ethics, religious subjectivities of late antiquity

historiography, theory and methodology in religious history
Current Research Projects
Adversarial discourse and the ethics of subjectivity in early Christian ascetic literature

Masculinity, violence and curatorship in the Teachings of Silvanus

Didymus the Blind and the Tura Papyri, coloniality in historiography, knowledge production, and the problem of the catechetical school of Alexandria
Memberships and Cooperations
Studies in Late Antiquity, Editorial Board

Religion in the Roman Empire, Editorial Board

Women's Classical Committee

Society of Biblical Literature / American Academy of Religion

Deutsche Verein der Religionswissenschaften

North American Patristics Society

Ecclesiastical History Society

British Patristics Society

International Association of Patristic Studies
Selected Publications
The Grammarian and his History: Imagining Christian Knowledge in the Tura Papyri. (University of California Press, 2018) (at press).
"

Didymus the Grammarian: The School of Didymus the Blind in the Light of the Tura Find," in School and Monastery: Rethinking Monastic Education, ed. Samuel Rubenson and Lillian Larsen. Cambridge: Cambridge University Press, 2017. (at press)
"

Of Sojourners and Soldiers: Demonic Violence in the Letters of Antony and the Life of Antony," in Violence, Education and Social Reproduction, vol. 3, ed. Kate Cooper, and Jamie Wood. Cambridge: Cambridge University Press, 2017. (at press)
"

Hegemony and Homecoming in the Ascetic Imagination: Sextus, Silvanus and Monastic Instruction in Egypt," in The Nag Hammadi Codices in the Context of Fourth- and Fifth-Century Egypt, Studien und Texte zu Antike und Christentum 86, ed. Hugo Lundhaug and Lance Jennot. Tübingen: Mohr Siebeck, 2017. (at press)
"

A Disciplined Mind in an Orderly World: mimesis in late antique ethical regimes ," in Metapher – Narratio – Mimesis – Doxologie, Begründungsformen frühchristlicher und antiker Ethik, Kontexte und Normen neutestamentlicher Ethik/ Contexts and Norms of New Testament Ethics Band VI, ed. Ulrich Volp, Friedrich Horn, and Ruben Zimmermann, WUNT. Tübingen: Mohr Siebeck, 2016 (p. 235-256).
"

The Oblique Ethics of the Letters of Antony," in L'identité à travers l'éthique. Nouvelles perspectives sur la formation des identités collectives dans le monde greco-romain, ed. Kathell Berthelot and Ron Naiweld, 169-185. Turnhout: Brepols, 2015.
"

Evagrius and Authority" in Evagrius and His Legacy, ed. Robin Darling Young, and Joel Kalvesmaki. Notre Dame: Notre Dame University Press, 2016. (p. 96-127)
"

Straight Reading: Shame and the Normal in Epiphanius' Polemic against Origen," Journal of Early Christian Studies 21.3 (2013): 413–435.
"

Gregory Taught, Gregory Written: The Effacement and Definition of Individualization from the Third to the Fourth Centuries," in Reflections on Religious Individuality: Greco-Roman and Judaeo-Christian Texts and Practices, Religionsgeschichtliches Versuche und Vorarbeiten 62, ed. Jörg Rüpke, 119–144. Berlin: de Gruyter, 2012.
"

Exegetical Curricula in Origen, Didymus, and Evagrius: Pedagogical Agenda and the Case for Neoplatonist Influence," Proceedings of the 15th International Conference on Patristic Studies held in Oxford 2007, Studia Patristica XLIV (2010): 281–294.
"

Becoming Men, Staying Women: Gender Ambivalence in Christian Apocryphal Texts and Contexts," Feminist Theology 18.3 (2010): 341–355.
Mind, Text, and Commentary: Noetic Exegesis in Origen of Alexandria, Didymus the Blind and Evagrius Ponticus. Early Christianity in the Context of Antiquity, vol. 6. (Peter Lang, 2010).
---
---