Prof. Dr. Annette Weissenrieder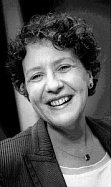 Telefon:
(0345) 55 - 23 013
Postadresse:
Prof. Dr. Annette Weissenrieder
Martin-Luther-Universität Halle-Wittenberg
Theologische Fakultät
Institut für Bibelwissenschaften
Seminar für Neues Testament
Franckeplatz 1, Haus 25
06099 Halle/Saale
Annette Weissenrieder was born and raised in Germany. She earned her Master of Divinity in Protestant Theology and Ph.D. from the University of Heidelberg, Germany. While writing her dissertation, Annette worked as a Research Associate at Ockham Research Center editing the Dialogus II under the leadership of Dr. Volker Leppin, and did postdoctoral research work at the University of Heidelberg. In 2008, Annette moved to Berkeley and joined the faculty at SFTS and the Graduate Theological Union.
Annette's interests are broad and include the comparing New Testament writings with the context of ancient medicine and philosophy, especially the question of religion and medicine. A second major interest is ancient art and numismatics (coins).
Veröffentlichungen
Miracles Revisited: New Testament Miracle Stories in Context, with St. Alkier (eds.) Berlin: de Gruyter 2013
Contested Spaces: Houses and Temples in Roman Antiquity and New Testament, with A. Weissenrieder (eds.) Tübingen: Mohr Siebeck 2012
The Interface of Orality and Written Text Speaking, Seeing and Writing in the Shaping of New Genres, with Robert B. Coote (eds.), Tübingen: Mohr Siebeck 2010
Religion und Krankheit. Religion and Medicine. Which relationships are life-enhancing?, with G. Etzelmüller (eds), Darmstadt 2010 (WBG)
Picturing the New Testament. Studies in Ancient Visual Art, A. Weissenrieder/F. Wendt/P. v. Gemünden (eds.), Tübingen 2005 (WUNT II, 195)
Images of Illness in the Gospel of Luke. Insights of Ancient Medical Texts (Tübingen: Mohr Siebeck 2003)
---
---